Main goals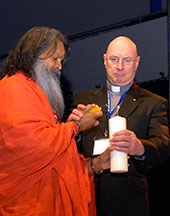 "Politicians and diplomats should increasingly enter into effective dialogue. Religious leaders need to show the way forward through the trust and dialogue we develop between ourselves."
Monsignor David Cappo,
Catholic Church, Australia
---
The main World Peace Council's objectives are:
1. Fostering of world peace, cultural exchange, dialogue between religions and nationalities, ethic education and healthy lifestyle.
2. Fostering of tolerance, respect and understanding among religions, cultures and nations, human rights as well as animal rights, animal and nature protection.
3. Fostering of the physical, mental, social and spiritual well-being of the individual and the general community by cultivating physical, mental, social and spiritual health through study, practice and teaching of the system "Yoga in Daily Life" as authored by the founder of the Sri Swami Madhavananda World Peace Council, Mahamandaleshwar Paramhans Swami Maheshwarananda, based on the authentic tradition of yoga and the teachings of his spiritual lineage.