His Holiness Vishwaguru Mahamandaleshwar Paramhans Swami Maheshwarananda Puri
of Panchayati Maha Nirvani Akhara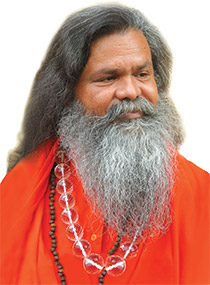 "The main commitment of humankind on this earth is to protect life in all forms and manifestations of existence. To realize this, it is necessary to adopt a different way of thinking and acting in every day life. It is important to introduce love, help, tolerance and understanding not only between individuals but among all nations, cultures, races and religions."
Paramhans Swami Maheshwarananda
His Holiness Mahamandaleshwar Paramhans Swami Maheshwarananda, a founder of the Sri Swami Madhavananda World Peace Council came to Europe from Rajasthan, India, in 1972. Here he came to know the needs of modern man, which inspired him to combine the ancient yogic realizations and the findings of modern science with his rich experience. In this way he created an integral and internationally acclaimed system of practices called "Yoga in Daily Life", which has spread from Europe throughout world, for the welfare of humankind and all living beings and has inspired hundreds of thousands people worldwide.
Especially during the communist era his spiritual and humanitarian work provided great moral support to the people of the Eastern European countries Czechoslovakia, Hungary and Yugoslavia. For his selfless efforts during nearly 20 years he received a letter of thanks by the President of the Czech Republic, Mr. Vaclav Havel. Croatian President Stipe Mesic acknowledged Swamiji's humanitarian service to Croatia over the last 30 years by awarding him the Order of the Croatian Star with the Effigy of Katarina Zrinska.
The President of Croatia, His Excellency Stjepan Mesic, has received a visit from Prof. Paramhans Swami Maheshwarananda and on this occasion has given him the decorative award of Danica Order of Croatia, with the image of Katarina Zrinska. This award is in recognition of Prof. Maheshwarananda's lasting achievements in developing ecological awareness, peace and tolerance between cultures, nations and religions of the world.
2002 Zagreb, Croatia
Paramhans Swami Maheshwarananda's books and scriptures have been published in many languages (English, Hindi, German, Czech, Slovak, Croatian, Serbian, Slovenian, Hungarian, Spanish, French and Russian). His distinguished charitable, humanitarian, religious and environmental work as well as his untiring efforts for tolerance and world peace have been acknowledged by social, medical, religious and political dignitaries in different parts of the world.
Read more about Swamiji on
http://swami-maheshwarananda.org
---
Swamiji's recent activities:
2014
Attending the 8th ICPNA International Conference on Peace and Nonviolent Actions, being organized by Anuvrat Global Organization ANUVIBHA, a transnational centre for peace and nonviolent action associated with UN-DPI in collaboration with Jain Vishva Bharati University, 5-7 Jan, 2014, Jaipur, India
Special function for the students and planting of an Ashoka Peace Tree at the Governmental Bangad Senior Secondary School, Jan. 15, 2014, Pali, Rajasthan, India
Attending the UN CSW58 Conference (Commission on the Status of Women) on behalf of SMWPC, accompanied by numerous representatives of SMWPC, YIDL US and YIDL AUS, March 10-12, 2014, UN Headquarter, New York, USA
Planting a Peace Tree in the garden of the Roman Catholic Church (by MM Swami Vivekpuri as the representative of Swamiji), with Rev. Father Ajtósi, Mr MP Undersecretary, Mayor and Mayorship representatives, July 5, 2014, Balatonfüred, Hungary
Received the Bharat Gaurav Award in House of Commons, British Parliament, London on 23. July 2014
Swamiji continuously contributes his efforts to peace, tolerance and understanding among nations in his numerous meetings with political leaders:
1992 — President of Hungary, Arpad Goencz
1993 — President of Slovakia, Michal Kovac
1999/2000 — President of Slovakia, Rudolf Schuster
2000/2002/2004 — President of Croatia, Stjepan Mesic
2000/2002 — President of Slovenia, Milan Kucan
2001/2002 — Prime Minister of Slovenia, Janez Drnovsek
2003/2004/2005 — President of Slovenia, Janez Drnovsek
2005 — President of Austria, Heinz Fischer
2010 - Meeting with former President of Croatia Stjepan Mesic
2010 - Planting a World Peace Tree with the Deputy Mayor of Nova Gorica Ms Darinka Kozinc, Nova Gorica, Slovenia
2010 - Planting a World Peace Tree in Zagorje with the Mayor of Zagorje Mr Matjaz Svagan, Slovenia
2010 - Meeting with Mayor of Kranj, Dr. Damijan Perne, Kranj, Slovenia
2010 - Meeting with Mayor of Ljubljana, Mr. Zoran Jankovic, Slovenia
2014 - Meeting with Rajasthan Chief Minister Vasundara Raje