About World Peace Summits

World Peace Summit
Bratislava, Slovak Republic, 2007
"Unity in Diversity is the aim of this Summit. We have learned many things and now we shall put them into practice. There should be more and more such conferences so that the consciousness will awaken to bring about Peace. We shall spread this message from door to door and from shore to shore. This Summit is a seed that must be grown into a large tree with branches of Spirituality, Peace, Justice, Understanding, Forgiveness, Tolerance and Love."

Paramhans Swami Maheshwarananda
Initiator of the Summit
The Council's feature event is the "World Peace Summit". The Summit is an annual event to raise global awareness, as well as spiritual, social and political resolve to secure lasting world peace and to demonstrate tolerance, respect and understanding by acknowledging 'unity in diversity'.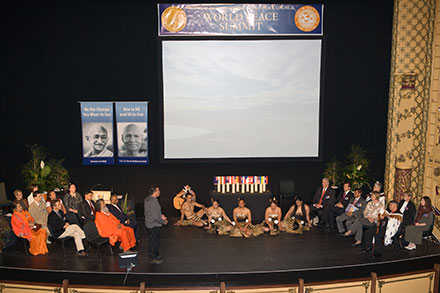 World Peace Summit
Wellington, New Zealand, 2008
The mission of the World Peace Summits
To promote and support the realisation of the UN Millennium Development Goals
"Politicians and diplomats should increasingly enter into effective dialogue. Religious leaders need to show the way forward through the trust and dialogue we develop between ourselves."
Monsignor David Cappo, Catholic Church, Australia
More information about The Earth Charter Initiative
To promote the values of "The Earth Charter Initiative", a declaration on fundamental principles for creating a just, sustainable and peaceful global society

"With your good wealth, as a business leader you can do very much towards world peace. Devote your attention to the environment. Business can be related to the protection of the environment, and the protection and help of the needy ones. Hundreds of billions of dollars are going into this war. If the money was used for good things, poverty and suffering would disappear."
H. H. Mahamandaleshwar Paramhans Swami Maheshwarananda
More information about The Earth Charter Initiative
To come to the realization of the message of His Holiness Dharmsamrat Paramhans Swami Madhavanandaji
One in all and all in one for achieving unity and peace.
To promote Mahatma Gandhi's message of non-violence, respect and peace. Gandhi's message challenges our personal lifestyle, our capacity to share community, our sense of a common humanity, and our responsibility towards Nature.
"Mahatma Gandhi said: 'When you are doing something, ask yourself, is this step leading to a positive aim? Will it lead others and me towards peace?' The call for peace is concerned with weighty and often overwhelming world issues. But it is based on hope and springs from the hearts of individuals and local communities. We are called to start where we can."
His Excellency Most Reverend William Morris, Catholic Bishop in Queensland, Australia
To foster awareness among people about preserving and cultivating our cultural and religious diversity as a richness and beauty of our existence.
"The best way of creating peace is to bring together people of different religions, nations, cultures and traditions. Peace is not an absence of conflict, but it is the way we deal with the conflict. Create understanding and forgiveness within you."
Lama Choedak Rinpoche
To promote development goals with the emphasis on issues that would lead positively towards an environmentally sustainable economy.
"Destruction can never be the last answer. If every country can give 1/1000 more of their GNP, in 2015 we will save human lives and have fresh water for everybody. As long as we hold our hands together we will overcome hate and open the door for peace."
Rabbi Awraham Soetendorp, Earth Charter Commissioner
To promote and support activities to protect wildlife and take active part in preventing animal torturing and suffering.
"The verses of the Koran and the sayings and practices of Prophet Mohammed exemplify the high position of love and mercy, thus a Muslim would not hesitate to call for peace."
Imam Sheikh Mansour Leghaei
Topics of World Peace Summits

Inspiration for this and previous conferences is drawn from the wise words of Mahatma Gandhi "Be the change you want to see".
Topics at the Summit are targeted at the United Nations Millennium Development Goals to be reached by 2015, which include:
World Peace
Protection of the Environment
Health
Youth Education
Ethical and Moral principles
Tolerance
Multiculturalism