Report of World Peace Tour to Uluru, Australia, April 2011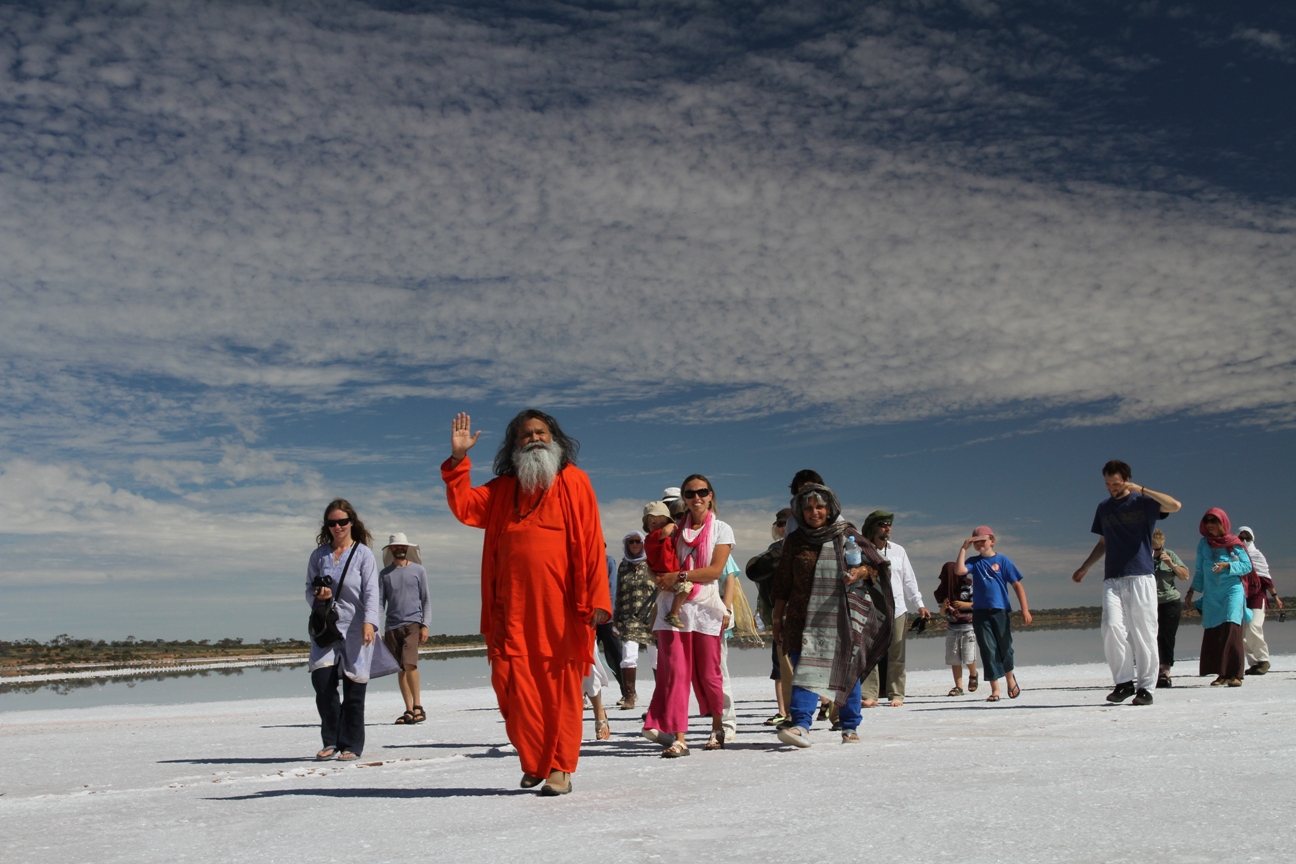 April 17-27, 2011
The seeds for the Sri Swami Madhavananda World Peace Council : Project for Reconciliation - Journey for Peace and Friendship Honouring the Ancient Culture and Living Wisdom of the Aboriginal Peoples of Australia April 17-27, 2011 were sown by Paramahans Swami Maheshwarananda in April 1995 more than 15 years ago in Queensland, Australia.
The Journey began when a gift of sacred ceremonial music sticks was delivered by hand to Swamiji in Auckland on 19 March 2011 on behalf of Tribal Elders and Traditional Owners from Central Australia. This was a traditional presentation and Welcome to Country and invitation for Swamiji to sit with the peoples from desert communities and bring his message of World Peace and Reconciliation for everyone to live together in harmony.
On 21 March Swamiji invited all bhaktas and supporters of World Peace and Reconciliation from around the world to join him on a Caravan Tour of Desert Communities in Australia which would start from Adelaide on 17 April and end at Alice Springs on 27 April 2011.
On 14th April Swamiji and Swami Jasraj met with the Director of Tauondi College at Port Adelaide. A World Peace Tree was gifted to this Indigenous College from Swamiji and messages of Peace Friendship and Reconciliation were exchanged with staff and students.
On 17th April 2011 Swamiji arrived in Adelaide for the beginning of the Peace Journey. The Mayor of Adelaide as well as Monsignor David Cappo and many others farewelled the group and wished Swamiji and the delegates a safe and fulfilling journey. The Premier of South Australia Mike Rann sent his best wishes from China for a successful Peace Tour.
Later that afternoon Swamiji was welcomed by Mr Ray Martin Manager of Parks at Port Augusta Council and invited to plant a native Hakea in the Arid Lands Botanical Gardens as a symbolic Peace Tree for World Peace. The local yoga and environment groups as well as media representatives were also present to record and support this historic event.
On the evening of 19th April at some distance north of Lake Hart Andrew Japaljarri Spencer and Pushpa Prem finally met up with Swamiji and the group. He presented Swamiji with a traditional dot painting of his family's Dreaming in gratitude and honour of Swamiji's visit.
Japaljarri freely gave his expertise and wisdom and shared stories and songs in his roles as Traditional Owner and Elder of the Warlpiri people and Senior Aboriginal Community Police Officer Northern Territory, to guide the desert caravan from Coober Pedy to Uluru.
He was deeply touched by Swamiji and invited him to visit his country and family at Walungurru for traditional ceremonies and says he prays for the days when Swamiji will come again to Australia. Japaljarri also said Swamiji will be seen by Aboriginal people as a great man and bringer of rain because his name means rain maker in the Pintupi language.
Traditional Owners and Elders from Mutitjulu and Indulkana acknowleged Swamiji's visit to Uluru and desert country in the traditional way by lighting their camp fires in honour of his humble presence and respectful understanding of and prayers for their land and culture.
On 27th April Barbara Satour on behalf of LhereArtepe Native Title Holders officially greeted Swamiji with a Welcome to Country. Mayor Damien Ryan from Alice Springs Town Council thanked Swamiji for coming to Alice Springs to bless the community gardens and plant a World Peace Tree. Kinsmen from Gujurat near where Swamiji lived as a child were also present to welcome Swamiji along with local yoga and environment groups.
ABC Radio broadcast an interview with Swamiji that morning which was well received and remarked upon by many people as a beautiful blessing for all who heard his words. In this interview Swamiji explained the purpose of the Journey for Peace and Friendship by saying "I made this journey as a World Peace Message in support of the United Nations Millenium Goals like Educations, Ethics, and Environment, Water supply and Reconciliation among Humans, and also to express my mission to bring reconciliation to this country, to bring peace and mutual understanding to all humans to live together in peace, love, harmony and understanding. At the Holy Rock Uluru we made prayers and meditations for World Peace. We walked around the Holy Rock, and all the times were praying and sending good thoughts and wishes to the whole world from this holy place. The Uluru indeed is the centre of Australia like a navel of Australia it is a powerful energy here balancing the entire country."
In answer to the question: How can planting a tree help world peace? Swamiji said: "This tree should remind us to keep peace in our hearts and beautiful divine thoughts in our mind. And those who come to this tree with pure feelings, their positive wishes will be fulfilled under this tree. Going around the world, wherever I come first time, I ask the communities and authorities to plant a Peace Tree. To many countries around the world I have brought this message with the Peace Tree and the Light. There is a very positive feedback everywhere I come, very much accepted. This Tree shall stay forever and remind us of Peace, Love and Understanding"
Report Peace Tour Uluru (PDF)
News Article
Peace Tour Alice Springs Interview: